My Halloween costume this year was solely based around one of my features...my hair. Since chopping my hair a few months ago, I wanted to make sure that I picked a character that didn't require me to wear a wig or do anything out of the ordinary with it, so I went with Betty Boop.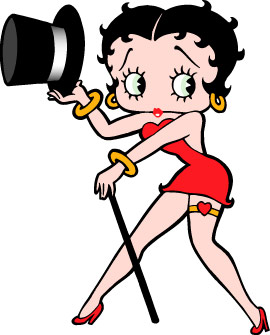 I am the type of person that hates shelling out $75 on a pre-made costume and coming up with this one was quite simple. With a $5 dress from Goodwill and a DIY'd garter - I spent a whopping $11 on my whole costume. Everything else was grabbed from my closet.
I can't take all the credit for my costume though. Luckily I my routine hair trim was scheduled on Saturday, which was also the same night of the big Halloween party. So my amazing hairstylist Ashley at
Salon Buzz
was kind enough to pin my hair up instead of doing the standard blow dry. If it weren't for the way she styled my hair, I don't think my costume would have been complete.
Although I loved my costume, I have to say that Matt's was far superior than mine. He and our friend Adam dressed up as the guys from
Weekend at Bernie's
and they got tons of compliments (maybe even high fives) throughout the night.
|Did you celebrate Halloween by dressing up this year? What did you dress up as?|