Hi, you've reached Defining Tabitha and I'm currently on my babymoon. While I'm out I've asked some friends to blog sit for me. Over the next few days you'll read great posts that have a travel theme embracing topics that each blogger is an expert at covering.
Today meet Erin from Once Upon a Misadventure. Erin is more than just a FIRL (friend in real life), she's a wonderful blogger who shares her everyday misadventures with hubby Brett. Since her and Brett are the cutest couple who are always up for anything, I asked her to write about the top five most romantic vacations they've shared. I think you'll agree that Erin and Brett are a couple that you wish you were friends with...luckily I am. :)
I am honored that Tabitha asked me to write a guest blog post while she and Matt are on their babymoon! A little about me: I went to high school with Tabitha's husband and started a little blog of my own called
Once Upon a Misadventure
after my now-husband proposed a couple of years ago, initially to help plan the wedding. My husband, Brett has truly brought me out of my comfort zone and, since meeting three years ago, has taken me on around two dozen trips—or "misadventures" as we like to call them. Travel is definitely a top priority for us, since we want to see the world before adding to our little family too!
These are my picks for the top five most romantic vacation locales we have had the opportunity to journey to!
1. Siem Reap, Cambodia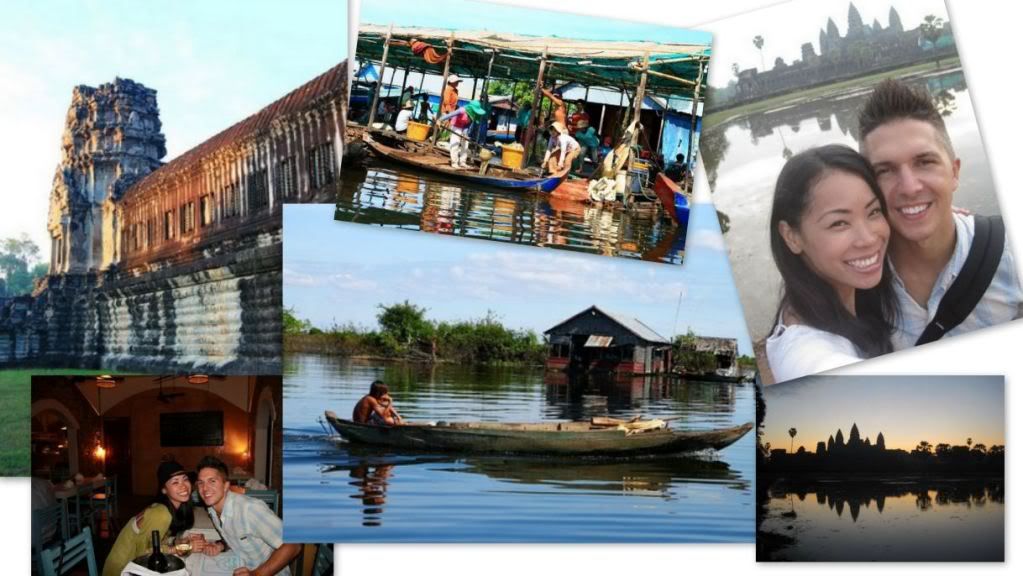 Although Cambodia didn't fit my idea of a "five-star resort, Egyptian cotton-sheeted" honeymoon, it turned out to be my favorite—and most romantic—vacation destination of all! The Khmer Rouge was defeated just 13 years ago and the memory is still fresh to a lot of people, so they celebrate the simple things in life: peace, love, family and freedom. I have never witnessed such joy within people who seem to have so little material wealth. We saw temples, roamed open markets, enjoyed tuk-tuk rides through the countryside, saw the amazing floating villages of Tonle Sap, and ate delicious (and super affordable!) meals. Brett and I bonded through sharing these awe-inspiring experiences and we both developed a deep level of appreciation, gratitude, and humility. We can't wait to go back someday!
2. Oahu, Hawaii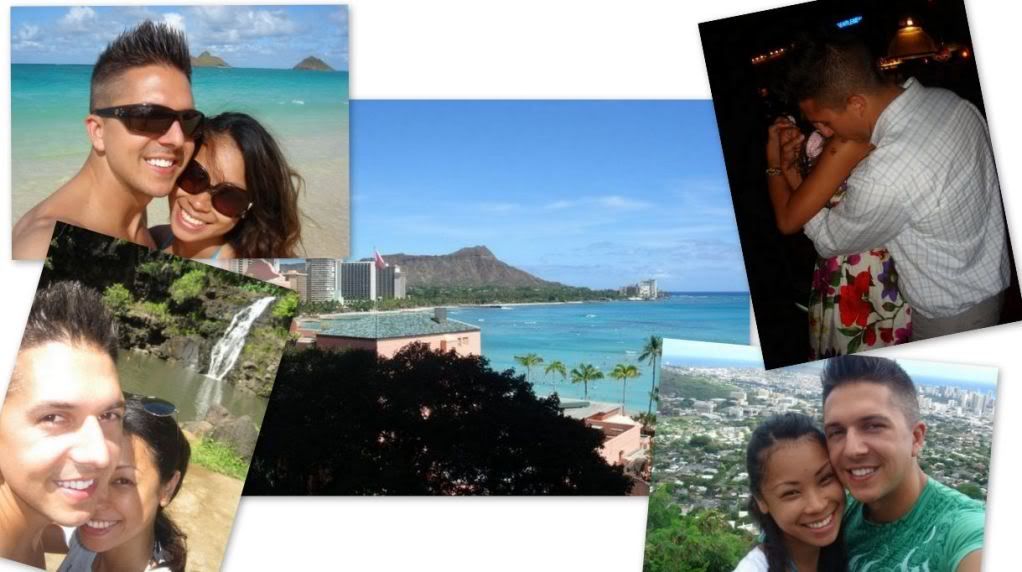 This may be a no-brainer for many of you, but I'm from Hawaii, so going there is just coming home for me. Brett and I have visited together five(!) times since we've started dating. Hawaii is romantic just by nature with the sunsets and beaches and all, but add to this the excitement of watching your friends and family fall in love with your then-boyfriend and it is icing on the cake! Because our Hawaii trips are usually jam-packed with two or three social get-togethers per day with our loved ones, we try to block off some quality B+E time, otherwise it doesn't really feel very romantical. Walks on the beach never hurt.
3. North Carolina coastline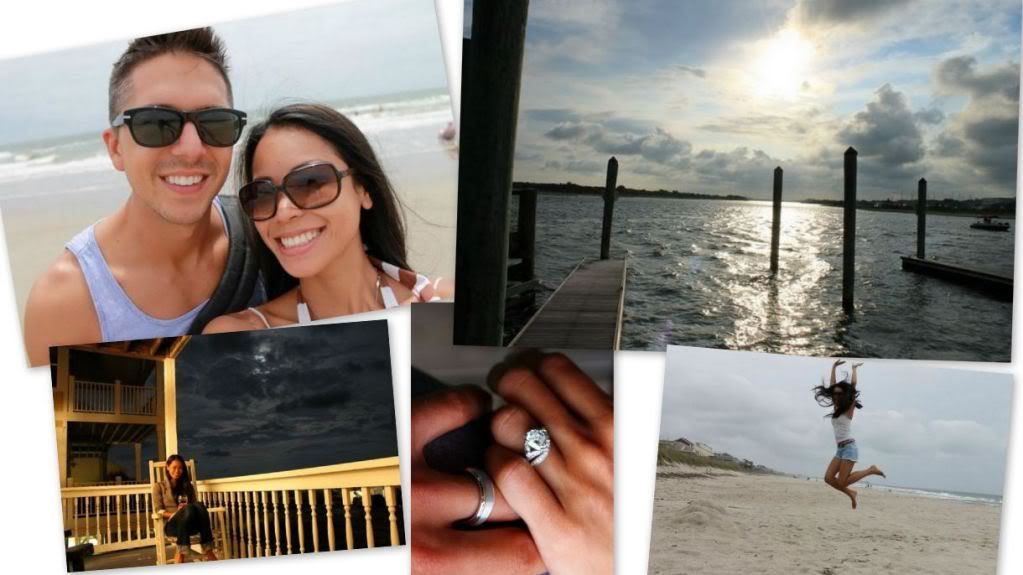 Brett and I went to Oak Island, North Carolina for our "minimoon." Since I started pharmacy school literally the Monday after our wedding weekend, we had to cancel our original honeymoon plan (Spain) and suck it up. I went to school that week, and on Friday we packed up and headed to Brett's family's beach house on the beautiful North Carolina coast. It was such a lovely weekend, spent playing in the warm Atlantic Ocean, sitting on the porch with cocktails, eating meals on decks overlooking the sea and simply enjoying the newlywed glow. We played board games and cooked dinner together. It was perfect. I can't wait to spend a month there this summer!
4. Phuket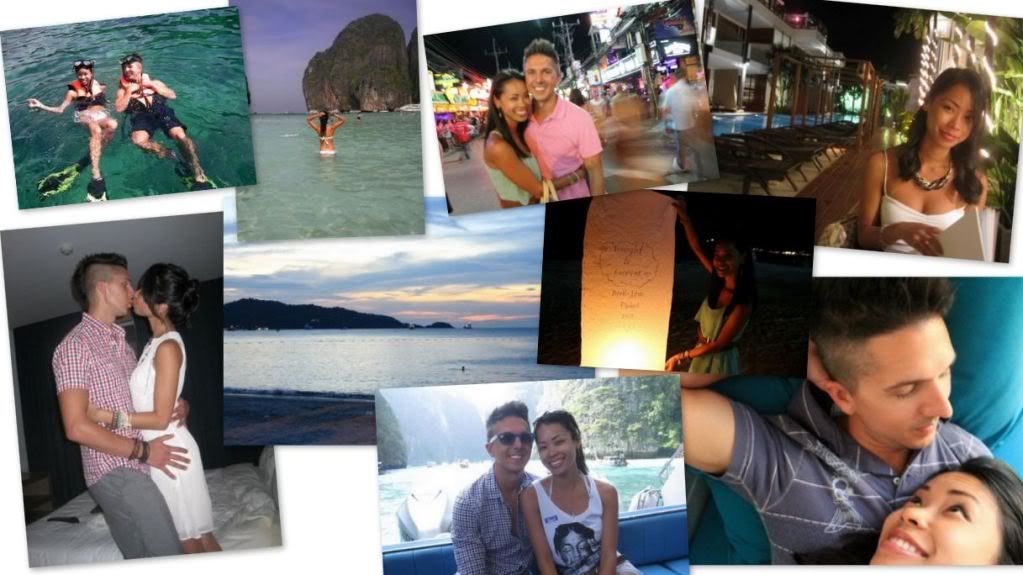 Phuket was part of our southeast Asia honeymoon misadventure. Where Cambodia was spiritual, Phuket was…well, it was debaucherous. We stayed out late, slept in late, lounged at the pool, played drinking games, sun-worshipped on the beach all day, went to a Thai boxing match, and island-hopped. It was wildly fun, and such a great opportunity for Brett and me to just laugh and play together. Although B thinks Phuket was too "crazy" to be considered romantic, I think it is the mixture of playfulness and quiet moments that makes our love story what it is, and Phuket was a perfect example of this.
5. New York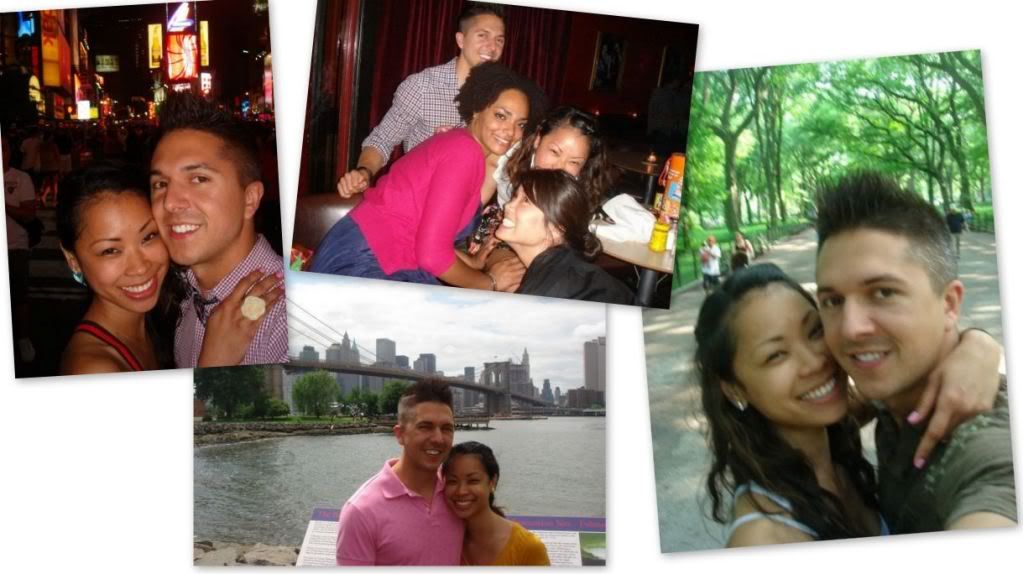 New York City was our second trip together, in the summer of 2009. Because our love was so shiny and new, we skipped around town, met each other's friends for the first time, and fell even harder for each other. My highlight of the trip was seeing Gavin Rossdale and Gwen Stefani in Central Park (and watching Gavin's reaction when Brett had no idea who they were). New York is debatably the greatest city in the world, pulsing with energy, and we had so much fun exploring the museums, bars, shows, all it has to offer, together! Hopefully we can go back again sometime soon to see our old friends and possibly make new ones!
I personally can't wait to hear about Tabitha and Matt's European babymoon, and I'm sure you all feel the same! Brett and I are also heading somewhere this spring—Panama for a week! We are always chasing our next misadventure and I wish you the same! Many thanks for reading!