2011 was the year of all things Ryan Gosling and 2012 is the year of Channing Tatum. It seems like his movie releases have been back to back and in 2012 alone I've seen 3 movies that he's starred in. I must say though, kudos to his agent because so far all of those movies haven't disappointed and I hope 21 Jump Street is just the beginning of what's to come for him.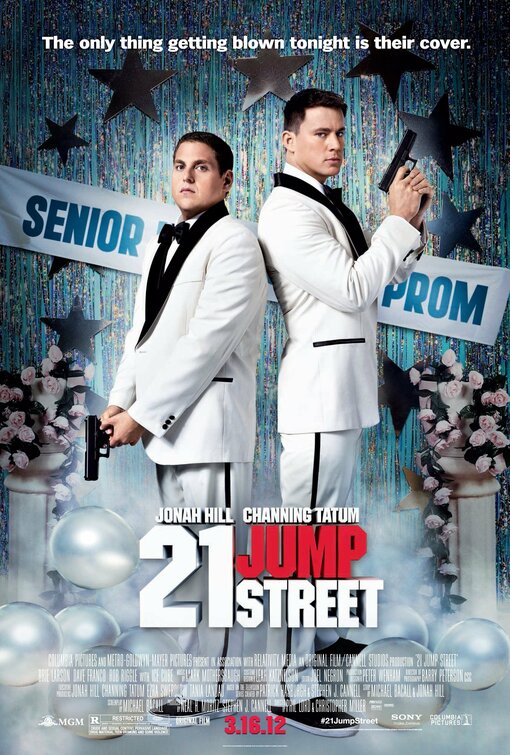 I fully admit that I was skeptical about seeing this movie. When trailers and previews started coming out I couldn't help but notice how far off the movie seemed from the original (more serious) show that starred Johnny Depp, Peter DeLuise and Holly Robinson Peete. Not that I'm fully dedicated to the original show, but I partially grew up in Vancouver BC where the show was shot so my loyalty is based on my roots. However, I'm glad my husband (who has a great eye for movies) said he wanted to go see it because the more and more commercials I saw - the more interest I had in seeing it.
Aside from Channing Tatum, the movie also stars Jonah Hill, Ice Cube, Rob Riggle, Ellie Kemper and some special guest appearances. With Jonah Hill in it, I had no doubt in my mind that it would have it's comedic moments because that's his fortay. Almost every movie he's in, even Cyrus, has laugh out loud times, so I was at least expecting a good chuckle or two. What I didn't expect though was bursting out laughing in most scenes almost to the point I was crying. Although Channing Tatum's SNL performance earlier this year was just mediocre, this movie proved that he could carry his own in a comedy. The two leads complimented each other quite nicely and I loved that it had a ton of unexpected moments that just made every laugh out loud moment better than the last.
If you're on the fence about seeing this movie, I guarantee that you'll be pleasantly surprised. It hasn't been since Horrible Bosses that I've laughed so much and I loved every minute of this movie. Trust me, I was totally skeptical and have been converted.
|Did you go see 21 Jump Street this weekend? Did you have the same pleasant experience I did?|