I'm not one of those girls that takes romance very seriously and in fact sometimes all the mushy love stuff makes me a little un-comfortable...but today is a special day. Eight years ago today I was lucky enough to marry my amazing husband. Looking back at 8 years ago from today, I was 24 and madly in love with this man that was complete opposite from me. Although we married young, not a day goes by where I don't think it's the best decision I've ever made. Marriage is anything but easy, in fact it's the toughest thing you have to work at in life, but in the end it's all worth it.
So to my loving husband that has put up with me in marriage for 8 years, and as a partner for over 10 years....
Thank you for loving me endlessly even on my no-makeup days. Thank you for reminding me that my tantrums are for no good apparent reason and that there are bigger problems in the world. Thank you for letting me be my independent, stubborn self but putting me in my place when needed. Thank you for delivering flowers to my office on non-special occasion days - even when I say not to. Thank you for letting me love you - loving you is the easiest part of marriage.
I'm looking forward to many more years of growing old with you!
Here's the card I should be giving Matt....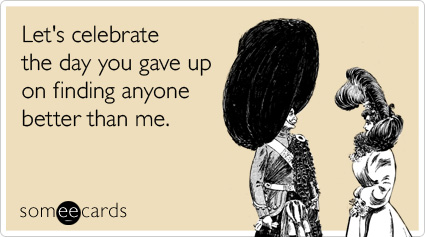 But this is what it really means.